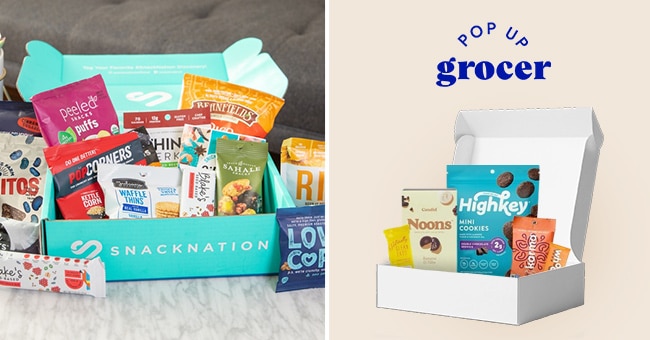 Where does a floating grocery store land during a pandemic? What about a curated snack service for office workers? As most daily activities move online, businesses whose plans rely on disrupting the everyday grind with exciting new products need to move forward — despite the fact that working at home has become the norm for nonessential workers. That has meant big pivots for snack services and experientially-focused popup retailers. At a time when even Instagram stalwart Museum of Ice Cream has gone to an online shop, these retailers are using their curated snack selections to brighten up the work-from-home experience — and to give brands a unique opportunity to capture consumers in an uncertain time.
Popping Up Online
Pop Up Grocer, a traveling food and beverage store, earlier this month launched work-from-home snack boxes reflecting the company's ethos of nurturing emerging brands.
Although grocery stores are deemed 'essential' businesses, Pop Up Grocer had just closed its L.A. location on March 1 after its scheduled 30-day run. The company's current New York City store, located inside Chelsea Market department store Neighborhood Goods, will reopen when the larger retailer does. Meanwhile, an Austin location scheduled to open this month is on hold, along with another location in New York City.
"Our development of the boxes was in response to the inward question of "what is the value we provide?" founder and CEO Emily Schildt said. "And how does that pertain, specifically, to this specific time? Our pop-up shops are one realization of our intent to bring people delight and happiness through the act of discovery — why people are interested in us — but it's not the only way we can facilitate that."
After working quickly for two weeks to create the delivery system, boxes launched the first week of April; Pop Up Grocer can now fulfill 150-200 boxes per week, having sent its first set last week. But the operation will need some tweaking: no paid marketing and donating 10% of sales to Feeding America means "essentially losing our profit margin," Schildt explained.
"We think it's important and necessary," she said. "We'll have to figure out where we can create efficiencies to make this a viable revenue stream for the business. Efficiencies don't typically coincide with scurry."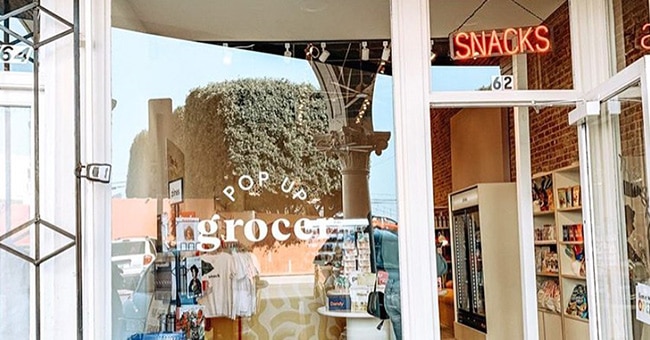 Other plans have also shifted for the company for 2020, including launching an e-commerce site.
"I'm actually thankful we didn't," Schildt said. "We really want to ensure that everything we do is an expression of introduction and education, in a fun environment, with the intent to bring people a sense of joy. There's so much creativity and innovation in every category in grocery, but the grocery store isn't the ideal place in which to explore it. I'm not convinced scrolling through pages of itemized images is what we're here to provide, even if people say that's what they want from us."
The grocer attracts "early adopters who have the potential to be influential advocates for brands," Schildt noted. The grocer features new brands in its newsletter, and moving forward may offer more education as operations move online. Its shoppers are especially hungry for emerging snack brands, she said, with the store's bestsellers typically better-for-you chip and sweets brands. The boxes feature a rotating selection with plans to later offer subscriptions and expand its new brand offerings, which so far include meat snack brand Union Snacks, popcorn brand Papa's Pops, prebiotic soda brand Poppi — and bamboo toilet paper brand Reel — along with new products from SmartSweets, Magic Spoon, and Raaka Chocolate. Schildt noted "creativity and innovation" are prominent in the snack aisle.
"There's just too much stuff out there, in every category of every industry," Schildt said. "We cull through the clutter and advocate for the brands we believe in, which are those we believe our community wants to invest in. For brands, that's tremendously valuable."
A Nation of Snacking from Home
Office food service company SnackNation had just launched 'SnackNation Plus' in February to include bulk and classic snack brands, artisan coffee, tea and fruit. For now, that offering is on pause and the company has had to shift its attention to curating Work-from-Home Wellness Boxes, which launched last month.
A box's selection of 15 or 30 better-for-you snacks can include bars, chips, jerky, granola and trail mixes, or a 12-snack option with a 12 oz. bag of coffee. When shelter-in-place began, consumers wanted more junk food, but are now steering back toward better-for-you brands, CEO Sean Kelly said. And company leaders want their employees happily snacking: When most nonessential workers went remote last month, SnackNation allowed clients to pause subscriptions or donate to Feeding America. But company leaders asked to send employees snacks as a gesture of gratitude and motivation, Kelly said, with many switching over in the last few weeks.
SnackNation had considered a boxed offering before as teams started to become increasingly remote, but it wasn't a priority, Kelly said. Luckily, the company prepared for COVID-19 by ordering extra inventory in January and February and having a "resilient supply chain," Kelly said. Founded in 2014, SnackNation serves more than half a million employees in thousands of companies across the U.S., using machine learning to optimize curations and provide business insights to emerging brands. Moving forward, the company plans to adjust and add more brands, helping newer ones gain exposure during a challenging time, Kelly said.
Although it appeared suddenly, this workforce of nonessential employees at home provides a unique opportunity, Kelly explained: brands can reach families as they are thinking about their food choices even more — and direct-to-consumer is "another really high-value thing."
"Instead of sharing with coworkers [people are] sharing with families or spending more time with the packaging," Kelly said.
A future goal for SnackNation is to give employees an even more direct way to buy a snack they liked, Kelly noted, and consumers' current behaviors around D2C might bring that to light even sooner. Moving forward, the company will add more food and beverage combinations as it expands its coffee and tea partners, which Kelly expects to be a "significant part of the business." Work-from-home boxes require a lot less labor than office deliveries, Kelly noted — adding that the question of when and whether people return to work is especially top of mind for him.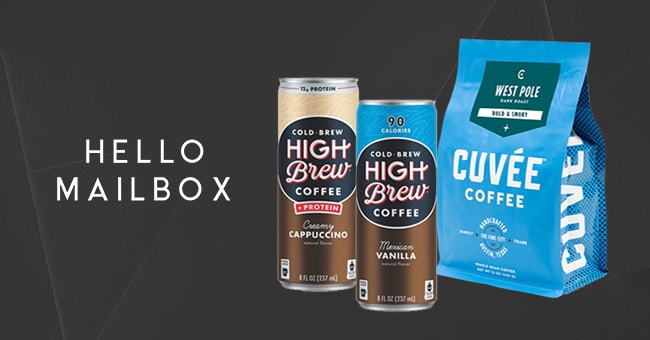 A Tasty Hello

Meanwhile, an online service company is using the pandemic as a way to accelerate a new product type. Hello Mailbox CEO Natalie Yerkovich thinks workers at home need the personal connections of office life, so as part of her handwritten note service, Hello Mailbox, Yerkovich last month launched "Let's Grab a Coffee" as a creative way to reach out — via snail mail — to schedule virtual meetings. The box can include ready-to-drink High Brew cold brew coffee, Cuvée instant or ground coffee along with a personalized note.
"People still need creative ways to break through the clutter," Yerkovich said.
Along with the coffee samples, Yerkovich's Good Vibes snack boxes will launch next month, with participating brands so far including snack brand FitJoy, gum brand Zellie's and energy bar brand Thunderbird. Options will include a 10-item box and a 20-item box for $25 and $45, respectively.
Yerkovich came up with the snack box idea following the cancellation of Natural Products Expo West. A brand's need to sample beyond trade shows, Yerkovich explained, is even more applicable now that conferences, field marketing and in-store sampling are paused. Companies can send boxes to employees with personal notes, and the box provides brands' social media and email lists, coupons and product surveys. Brands simply have to send the products, she said. The idea makes sense not only for newer brands but especially those that already sell to offices as part of their strategy, she said.
"Recipients are encouraged to engage with the brands so they can start to nurture the person as their own customer," she said. "It's a big benefit for brands as well; there's more reach participating in this than building brands on their own, helping brands leverage our service rather than their team's time."