CHANDIGARH: Even as parents struggle to strike a balance between hectic work-from-home schedule and household chores, they have to face the added burden of learning themselves and then teaching their children.
Online classes may have structured the children's days but parents are having a hard time coping with mounting responsibilities. Almost all schools share PDF files and YouTube links as part of online learning, which does not help much.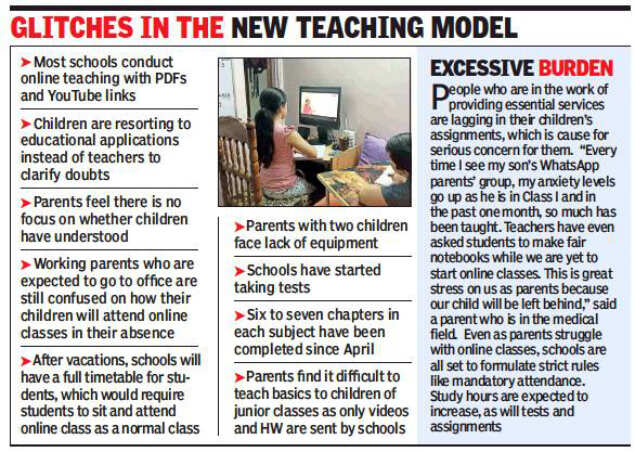 Working practically without help, parents have to help students with lengthy assignments and be present when little ones take online classes. With many schools taking offence to parents showing up on screens during children's online classes, tackling household chores has become extremely tricky. Also, parents are clueless on how to get print-outs of assignments and worksheets.
"Parents are expected to help children with assignments that require many print-outs. This is a problem as 90% parents do not have printers at home," said a parent requesting anonymity.
Many parents believe the tempo of school work indicates a rush to get through the syllabus. "Every day, links for new topics in each subject follow. There is no time to revise topics covered earlier. All efforts of teachers are concentrated at finishing the syllabus," said another parent.
For students, holiday homework now comes with daily assignments and there is no one to clarify their doubts. They say they are put on mute during class and later they find it difficult to understand the subject on the phone.
"We are always on mute during class and then we have to call the teacher after class to get the doubt cleared but it is not very helpful. I have downloaded an app to clear doubts," said a student requesting anonymity.
With household chores, busy workdays, children's needs, finances and coping with stress, parents are walking a tightrope. Moreover, they are concerned about children's education as some children are unable to cope with online classes. Therefore, many people are on the lookout for home tutors who can teach online.