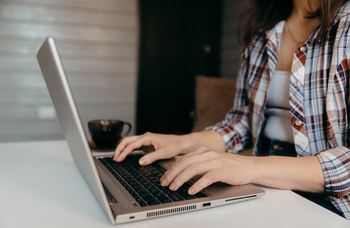 Last week marked the first day of the last term for many drama school students. Except there was no one filing in to the buildings of their alma maters.
Instead of piling into rehearsal studios, students were sat behind computer screens. Turned on, tuned in – hopefully no Wi-Fi drop-outs – to glean invaluable knowledge from their teachers, which included me.
On Tuesday morning, I was down to deliver three classes on interview technique, all seated at my desk in sunny south London.
This is a class I normally present over three hours for 20 to 25 drama school students, often in a windowless rehearsal studio. Now in the virtual world, I'll be dealing with three groups of 10 in one-hour sessions.
There are certain advantages. While smart from the waist up in a designer shirt, below, unperceived by my protégés, I'm making good use of a pair of Primark trackies I was given when playing a window cleaner in a coffee commercial.
On opening the virtual classroom, I am not assailed by Millennial or Generation Z body odours. And being of a certain age, I'm incredibly grateful that the students I'm working with are all arranged in little boxes – like a curious version of Celebrity Squares – with their names tagged on screen.