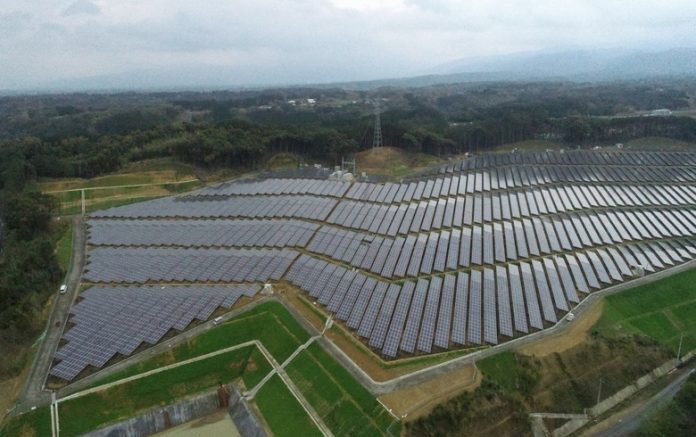 The international renewable energy developer, service provider and distributor BayWa r.e. has announced the successful completion of its first solar park in Japan. The Kuwabarajo Mega Solar No.4 solar park covers an area 24 hectares and can be found in Izumi in the Kyushu Kagoshima Prefecture, Japan. The 11.9MW project will generate enough electricity to power 5000 households. Despite being located in a hilly area, the construction of the solar farm, which comprises 31,248 solar panels, took just over one year to put together. Now operational, it is feeding green electricity into the national grid.
In spite of the challenging market conditions, BayWa re has plans to continue growing its portfolio of Japanese assets. It is currently building a 35-MW solar park in Ibaraki prefecture, planned to go live by 2021, and also intends to build a 50-MW PV plant in Kobe, lifting its installed solar capacity in the Asian country to almost 100 MW.
Also Read: Kanoya Osaki Solar Hills Project begins operation in Japan.
The commission of the solar farm comes soon after a report that claims that the Covid-19 pandemic has deflated Japan's photovoltaic (PV) solar market to the point where it will soon rely on coal, done by GlobalData analysts. Just as in many other countries, electricity demand in Japan fell during its coronavirus-induced lockdown. With the country's increased use of solar power, supply remained constant and wholesale electricity prices were kept low. Japan has invested significantly in solar, but changing the country's tariff structure and problems with interconnection have caused various hurdles. During the pandemic, construction work for new solar facilities was put on hold. The country is also facing large delays in receiving PV units from its neighbouring country, China.
China forms a vital part of Japan's solar supply chain. The onset of the pandemic there has affected the shipment of photovoltaic modules and other equipment for many Japanese developers.