Giovanna Jones dropped out of high school and earned her GED when she became a teen mother. She committed herself to her son, Antonio, and made it her mission that he finish high school. He not only did that, but continued to college and, along the way, inspired his mother to pursue her education.
"When he received his master's degree, that gave me motivation," Giovanna Jones said. "I felt like I needed to prove something to myself …"
Jones, a vaccine coordinator at the Washington, D.C. Department of Health, earned her associate degree in general studies and bachelor's in management with a concentration in public administration through Southern New Hampshire University's College for America program. The project-based curriculum is designed to allow working adults to complete a series of online, hands-on projects that demonstrate mastery of individual competencies and skills. Giovanna said she initially wanted to advance her career prospects, but soon realized she was growing in other ways as well.
"I learned a new way of thinking," she said. "The way I used to perceive things has totally changed."
Now Giovanna is focused on using her education to find a position in human resources management. Her son, who has been working at a real estate firm out of Reston, Virginia, wants to enter the communications field in public relations, journalism or broadcasting. He said earning his master's degree was a vital part of his strategy to become more employable in the field.
"Earning a degree was important to me because it would help with my earning potential and help me in an already competitive job market," he said. "My (master's) degree will help me because it is an add on to my bachelor's degree, which is in mass media television production."
Mother and son both said it was essential that their courses were online because campus-based programs wouldn't have allowed them to continue working full-time.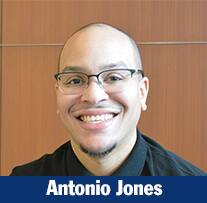 "I knew I wanted to get a master's degree, and I knew taking online classes would be the best for my situation," Antonio Jones said. "Online classes help me keep my work schedule and not have to leave early to go to class."
Going back to school wouldn't have been a consideration without an online option for Giovanna Jones.
"SNHU fit right into my schedule," she said. "I can wake up on a Saturday morning, open my laptop, and get to work. I also like the fact that I don't have a lot of time restrictions when it comes to school."
Giovanna Jones said she encourages her coworkers to take advantage of their employer's partnership with SNHU to earn their degrees.
"I never in my wildest dreams thought I would go to college…," she said. "The most encouraging thing I can tell anyone who's beginning their studies is, 'Hang in there,' because if I can do it, I know anyone else can."