June 2 2020
DIY research software company SurveyMonkey has launched a post-pandemic offer for enterprise customers, to help them gain an understanding of the health and well-being of staff and convert feedback into an action plan for employees' safe return to work.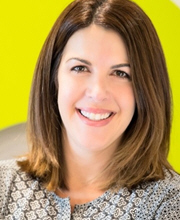 The offer includes ready-to-use templates such as the Coronavirus Leadership Check-In, Working from Home Pulse, Returning to the Workplace Pulse, and Frontline Worker Pulse; along with HIPAA-compliant features for health monitoring surveys. SurveyMonkey will also help enterprise customers tailor a return to work program through its professional services team.
Chief People Officer Rebecca Cantieri (pictured) comments: 'Our return to work solutions put the employee's voice at the center of the decision-making, and help operational leaders turn feedback into an action plan. We've used our own solutions to help answer questions such as, what needs to happen in order to help employees feel safe in shared workspaces? And, how can we continue to support employees at home? This feedback has built the foundation for our Reimagine Work Initiative, and we are pleased to extend this offering to organizations across the globe'.
Web site: www.surveymonkey.com .