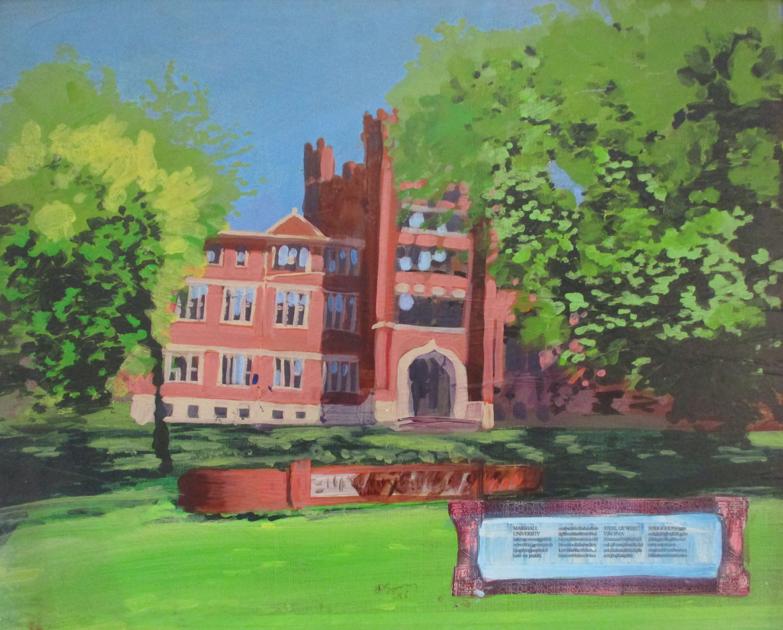 HUNTINGTON — The Huntington Museum of Art will conduct a special online sale of artwork by Stan Sporny (1946-2008), the respected late artist and former Marshall University professor.
The online sale will begin on invaluable.com on July 24. The sale of the 46 works will conclude on Aug. 1 beginning at 7 p.m. with one lot closing out each minute.
"Stan Sporny was a very talented artist who was well liked here in the Huntington community and made a positive impact on his students at Marshall University. This sale will give art collectors in our community and beyond the opportunity to add a work by Stan Sporny to their personal collections," said Geoffrey K. Fleming, HMA's executive director.
HMA is working with invaluable.com for this online auction. Invaluable buyer's premium is 15% added to all successful bids. A significant portion of proceeds from the Stan Sporny Fine Art Sale will benefit the Huntington Museum of Art.
Born in Philadelphia, Sporny attended the Philadelphia College of Art from 1964 to 1968 and the University of Pennsylvania from 1969 to 1972. He studied in Europe in 1970 and 1971, painting en-plein-air in Scotland and France (near Rouge and St. Dye-Sur-Loire), and during the summer of 1972 he was sponsored by the noted American painter Alex Katz to attend the prestigious Skowhegan School in Maine. He received an Albright Scholarship to study in Sri Lanka from 1972 to 1975.
Before working at Marshall University, Sporny taught at Louisiana State University from 1987 to 1988. Sporny received a Federal Art-in-Architecture Grant in 1993 to create 12 paintings that were installed in the Veterans Hospital in Huntington. Sporny was also involved in several mural projects in the greater Huntington area, including the design of a major project for the Huntington flood wall, which was conceived around 1995, but was never realized.
During his time in West Virginia he received numerous "Best-of-Show" and prizes for his paintings. He also won the first prize at the 2000 members juried exhibition at the Southeastern Conference of Art Colleges and received the Governor's purchase prize at the West Virginia Biennial.
In 2006 he was awarded an artist's fellowship from the West Virginia Commission on the Arts.
Sporny exhibited widely during his career, including solo shows in Sri Lanka; Washington D.C.; Philadelphia; Pine Bluff, Arkansas; and Atlanta, among others. In West Virginia, Sporny's works have been on view at the Huntington Museum of Art; MU's Birke Art Gallery; West Virginia State Museum; Tamarack; the former Sunrise Art Museum in Charleston; and in various West Virginia Juried Exhibitions, among other exhibits.
Sporny's works can be found in important public collections such as the Embassy of Sri Lanka, Washington, D.C.; Huntington Museum of Art, Huntington, WV; Marshall University, Huntington, WV; The National Museum of American Art, Washington, D.C.; The Ogden Museum of Southern Art, New Orleans, LA; and the Utah Museum of Fine Arts, Salt Lake City, UT.
His works are also held in many private collections including those of Dr. Nazem Abraham; Arthur C. Clarke; AT&T; Senator and Mrs. J.W. Fulbright; Hodding Carter & Pat Derian; Leukin Company; and Drs. Joseph & Omayma Touma.
Sporny's illustrations can be found in Michael Carrithers' The Forest Monks of Sri Lanka (Cambridge University Press, 1983). He also developed "The Sporny Solution," a non-toxic line of solvents and mediums to be used in oil painting.
For more information on events at HMA, call 304-529-2701 or visit www.hmoa.org