When Dolly Parton sang about tumbling out of bed and stumbling in the kitchen, what if after pouring herself a cup of ambition, she was already at work.
Technology and a good broadband connection means Dolly would be set up for 'Working 9 to 5'.
The world of work has changed dramatically during the pandemic with thousands of people working from home. Is there any reason why they can't continue to do so in future?
and recently launched a public consultation process. The deadline for submissions from employers and employees is August 7.
Jack Deacon is Deputy Director of SpunOut.ie, Ireland's youth information website. He has been working with the website since 2014, and had been living in a 2-bedroom apartment in Dublin with his girlfriend. When Covid-19 temporarily closed the offices of SpunOut, the couple gave up their apartment and returned to the dairy farm in Wexford where Jack grew up, to work from there.
"We are lucky, in that not many have fibre broadband here, but it was a driving factor in being able to work remotely from the farm," he said. "I was definitely someone who liked the vibe of the office, but actually I feel like I've transitioned pretty well."

"I like the different style of living down here versus paying extortionate rent for a cramped apartment in a city. I'd much prefer living rurally so I'd really hope to continue working remotely," he said.
It also means Jack is in a better position to buy a house in Wexford in future, something that wasn't an option in Dublin.
Kerry native, Leanne Hanafin works in the Alumni Office in DCU where she got her graduate degree last year.
She returned to Tralee to work from home when Covid closed universities, and a few months later, she gave up the room she was renting in a house in Dublin.
"Now that I've been working here since March, I've really seen the benefits of working from home and I've got to see my family so much more," she said. "In terms of productivity, there has been no alterations. We're able to do everything that we have been doing all along."
Leanne has been able to save the money that she would normally spend on rent, and the general cost of living in the capital. She is only starting out in her career and knows that there are still lots of opportunities for her in Dublin.
"I definitely would like to keep living in Tralee for the time being, but I miss the life and the atmosphere. In an ideal world for me would be a balance between working at home and working in the office."
Caroline McEnery is Managing Director of the HR Suite which provides HR services to businesses around the country.
She believes one of the best things to come out of the Covid crisis has been the accelerated move to remote working. "It's working exceptionally well, probably better for certain job categories than others, and we've also got to see the challenges around specific areas."
Will employees who have proven that they can work productively from, be allowed to continue to do so? It's a question being asked of HR managers.
"For many employers it will need a revision of the Contract of Employment especially if they are going to change somebody's location to be home in the longer term," Ms McEnery said.
"I think it's one of those things that you need to take on a case by case basis. You need to look at the job. You need to look at the role requirements. You need to look at the organisation requirements. We still need people to come to the office, it might be to a lesser extent but that connectedness, that collaboration, is important but there is also new ways of doing that to complement that collaboration and that engagement."
If the benefit of remote working is discontinued in future, businesses run the risk of losing talent.
"I think that if you as an employer don't give people the option to continue remote working – now that those people have had an extended period to trial and test living in that new environment, may say, well if my employer doesn't allow me continue doing this, seeing as it is working really well, I might look for another job that can offer me that," Ms McEnery. "So I think you could lose a lot of good talent by putting in those caveats especially if they're not necessary."
The regeneration of rural towns and villages features in the programme for Government. Lorcan Sirr, senior lecturer in housing at Technical University Dublin, says he doesn't believe there will be a mass exodus from our cities but remote working could allow people to live better elsewhere.
"It's a great opportunity," he said. "It looks like there are people who would like to do that, so the question is, can the towns and villages respond to that by making it feasible for people to live in towns and villages and help regenerate them?"
"I think cities are always going to be attractive to people in a work context. I think you are going to see people who have found it tough ie. long commutes, early morning drop-offs at childcare – if that can be ameliorated by living down the country in a town or village, then those people will definitely look at it."
There are also people who would like to work remotely from other countries. Ms McEnery received a request from an employee who wanted to work in South East Asia.
"They had been working remotely in another part of Ireland, and they contacted their employer to say, 'What would be the difference in me working in South East Asia as working in another part of the country. I'm not in the office anway'.
"It's an interesting one because to be honest as an employer you really have to weigh up what are the challenges associated with that. Sometimes when you hear the question first, your automatic reaction is, that's not going to work, but actually when you start paring it back, the same company allowed another employee work in a different part of the country.
She said businesses will need to have an open mind and explore all avenues to make remote working work.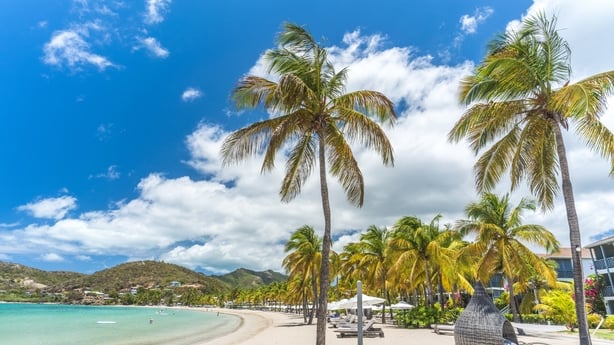 If you're working remotely anyway, how would you like to work from Barbados?
The Carribean Island has introduced a scheme to allow visitors to work remotely for 12 months.
Prime Minister Mia Mottley has called it the Barbados Welcome Stamp. The island is not seeing the number of holidaymakers that it would normally have in summer time, and to compensate, they're encouraging people to consider travelling there and staying for an extended period of time and work remotely.
That's one way of making the best of things.