"When my daughter and her boyfriend lived here they were working on the dining room table with four computer monitors and I was in the study. I had to buy an extender for the Wi-Fi.
"Now they have moved out it's a bit lonely being the only one here during the day and night.
"You don't have that day to day contact with your colleagues and those incidental conversations."
Ms Williams said she would like to go back to work for the social interaction but also felt "resentful" at the prospect of adding the travel time again to her day and losing the flexibility of working from home.
"What would be ideal would be a combination," she said.
Loading
University of Melbourne researchers Lyn Craig and Brendan Churchill surveyed more than 2700 Australians in May and found that during the coronavirus lockdown men spent 40 minutes more doing housework while for women it was one hour.
"Men were doing more in the home but women were doing even more than they had been before," Professor Craig said.
The research to be published next month also found that many people felt less stressed about time management because they were not commuting.
Another survey of more than 1400 Australian scientists conducted by Professional Scientists Australia (PSA) and Science and Technology Australia to be released on Wednesday also found that there was a high level of anxiety among scientists about losing their job.
PSA chief executive officer Gordon Brock said the COVID-19 pandemic had resulted in pay cuts for one in 20 scientists and many job losses.
"Coupled with the professional challenges of the pandemic, this lack of job security meant that one in four scientists reported that anxiety and mental distress due to the pandemic was affecting their ability to work," he said.
"Around one in five scientists said caring for children and home schooling had reduced their ability to work."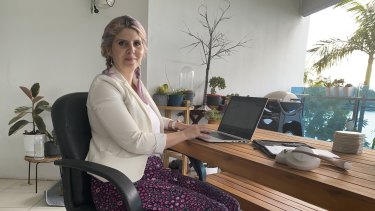 Brisbane medical scientist Katie Havelberg said she worked one week at home and one week in a laboratory on a rotating roster. She said it was difficult not having people around because her job relied on collaboration with other scientists.
"We are quite social creatures," she said.
"The downsides are working all day and not having a split between work and home life."
Researchers at the universities of East Anglia and Greenwich in England, and Auckland University of Technology have also published a study involving 29 workers from numerous countries including New Zealand and Australia. They found working remotely and relying on online communication "had a near-equal mix of positive and negative implications for team collaboration, particularly in terms of knowledge-sharing, virtual meetings and networking".
Jim Stanford, director of the Centre for Future Work at the Australia Institute said Zoom meetings were a convenient substitute for personal interaction "but are definitely inadequate and do not provide the full benefits of teamwork and in-person interactions".
"For those reasons, I think most of the increase in work from home we have seen during the pandemic will be unwound once it is safe to go back to group workplaces," he said.
Anna Patty is a Senior Writer for The Sydney Morning Herald with a focus on higher education. She is a former Workplace Editor, Education Editor, State Political Reporter and Health Reporter.